Now that the EAB has been discovered around Central New York,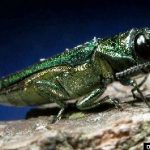 we would like to help you understand what to expect and to discuss management options.  There are two (identical) informational sessions being held in August.  This workshop will be geared towards woodland owners.  Officials from NYS Department of Environmental Conservation and the NYS Department of Agriculture and Markets will be on hand to present information on the Emerald Ash Borer (EAB) and to answer questions you might have about your property.  Light Refreshments Will Be Served.  A complete agenda will be added closer to the workshop dates.  Click Attention Woodland Owners EAB 2017 Workshop Flyer to download a workshop flyer.
Date: Wednesday August 16, 2017
Time: 6:00 pm to 8:00 pm
Place: West Monroe Town Hall, 46 County Route 11, West Monroe NY 13167
Date: Thursday August 17, 2017
Time: 6:00 pm to 8:00 pm
Place: Boonville Town and Village Office, 13149 State Route 12, Boonville, NY 13309
Agenda:
5:45 Registration, Refreshments
6:00 Welcome, Introductions (Dan Sawchuck DEC Forester)
6:05 General (Mike Giocondo & Glen Roberts DEC Foresters)
6:45 EAB General Quarantine Regulations (Wayne Prindle or Dorthea Duell, Department of Agriculture & Markets)
Quarantine regulations explained
Compliance agreements
7:00 Forest Management (Glen Roberts)
7:20 Panel Discussion
Contact:  To RSVP, for additional information about the meeting, or if you are unable to attend the meeting and are interested in management options,
please contact Glen Roberts: (315) 376-3521 or email glen.roberts@dec.ny.gov.
This meeting is being organized by the NYS Department of Environmental Conservation, the Tug Hill Tomorrow Land Trust and the NYS Tug Hill Commission.