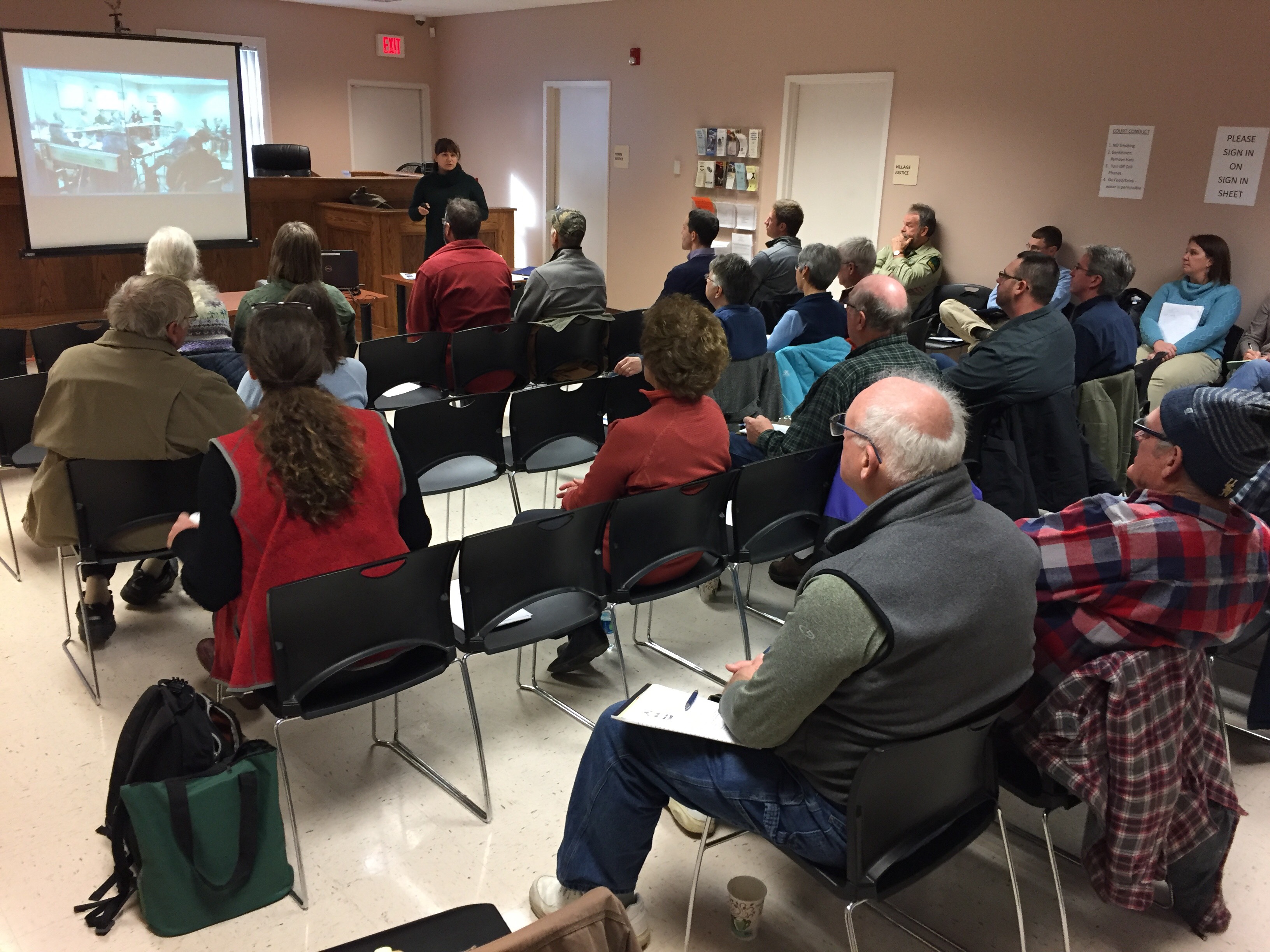 About 30 people, including members of the public, munici-palities, agencies and NGO's gathered on Wednesday at the Adams municipal building to learn about ways to minimize the impacts of the Emerald Ash Borer (EAB), particularly as it relates to municipal property, trees and infrastructure. The workshop, arranged by DEC and partners, including the Tug Hill Commission, featured four speakers from National Grid, DEC and the Onondaga County Soil and Water Conservation District. Onondaga County has been actively managing their ash trees to minimize potential hazards posed by dead and dying ash trees. A wealth of information about their EAB program is available at http://www.ongov.net/environment/emeraldashborer.html. In particular, they have developed and have been implementing their Ash Tree Management Study http://www.ongov.net/environment/documents/CompAshTreeMgtStrategy.pdf. If your town or village is considering a way to approach EAB, please look here first!
Dying ash trees are extremely brittle and can break very easily under very little stress. When an ash tree falls, it can shatter into many pieces and affect public utilities, roads, property and public safety. By the time people actually see that ash trees are being affected by the EAB, the infestation can be anywhere from 3 to 5 years along and by that time, options for management are more limited. Many times, a municipality's only management option, other than doing nothing, is to remove large ash trees from their rights-of-ways and properties (parks and forests). One proactive measure to save ash trees, before the infestation occurs, is to treat the tree. This is quite expensive, but we are learning that it is effective and can be a part of a town or village's overall strategy for dealing with the EAB. It's not a matter of if the EAB moves into our area, it's a matter of when.
There are many resources available if you would like to learn more. www.emeraldashborer.info is a national website with a wealth of information for a variety of stakeholders including landowners, municipalities. SLELO PRISM http://www.sleloinvasives.org/ is also an excellent source for information about EAB and other invasive species, as is the NYSDEC web-site https://www.dec.ny.gov/animals/7253.html.